Our Franchisees have come across clients that are disappointed to learn that The Brothers that just do Gutters is a franchise because, " They'd rather spend their money locally, and support and shop local brands." However, franchises do impact, and are a part of the local community in several ways.
It is a common misconception that franchises are large corporate businesses hurting, and taking away from, your local mom-and-pop shops. But, shopping with a franchised brand doesn't mean you aren't shopping local, and here's why. First, this new business owner opening a franchise in your neighborhood is a local resident. They typically have lived in that local town for years, and in many cases, their entire life. Second, starting a new business means hiring employees, thus creating jobs for more local residents. In addition to the residents that will work for the local franchise owner, opening a business requires many outside vendors like, uniform vendors, contractors and construction workers (if you are opening a commercial location), product vendors, accountants, financial analysts, banking, etc. The new franchisee will likely shop local for all of their start up needs, further stimulating the local economy.
Once this franchise begins to grow, there is also a large potential for a successful franchisee to purchase an additional local location. Opening a second location will allow for even more local available jobs, and additional "trickling down" benefits to other local businesses.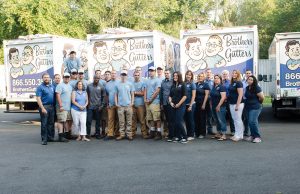 Additionally, what people don't realize, is that the majority of franchise concepts were originally started as "mom-and-pop shops". In order to franchise a business concept, the business model has to be tried and true. This typically takes someone a lifetime to perfect. Once perfected they are then able to take their concept and teach others how to build a successful business without having to endure the steep learning curve the founders had to. What makes franchises so great, is that they are built on systems that give franchise owners, and their employees, the tools they need to be successful and grow.
When it comes to local "one-man-show" contractors, their crew likely consists of themselves and one or two workers, at most. While there is nothing wrong with this model, the average "local" business owner is not creating more jobs and opportunities in their community. While a franchise business system is built for growth and to foster a larger work force, again, equating to more job opportunities for locals.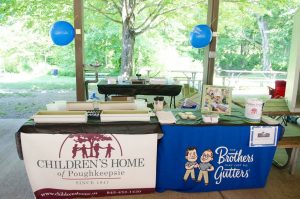 In addition to local job availability, many franchisors believe in and encourage community involvement as part of their business system. Community involvement can include things like, sponsoring local events and causes, attending local events, attending and supporting charity events, etc. At The Brothers that just do Gutters, it is part of our business structure, to not only support local charities, causes, and events close to our hearts, but to also be in attendance and regularly volunteer in our community.
Networking is another huge part of a start-up marketing plan for franchisees, especially at The Brothers that just do Gutters. We encourage new franchisees to join local groups like BNIs and Chambers. By joining these local networking committees, the franchisee is making local connections, which they will then refer and work with. Local connections and referrals create a mutual benefit that helps to further impact the community and those living in it.
Another misconception around franchising is that all the money goes directly into a large corporation's pocket, instead of to a locally owned business. However, as mentioned above, the owner is a local resident, and a franchisor only receives a small percentage from each location, called a royalty. The royalty enables the franchise to provide support, new technology, marketing and much more. The available resources from a franchisor and a franchise business system helps to stimulate success and growth, which is great for the economy. Franchising is essentially the equivalent of going into business with a partner, except you don't have to split everything 50/50. A franchise will typically receive a 5-15% royalty, usually off gross sales. Keep in mind, this royalty comes with a lot of work and support from the franchisor. It's not a fee that is received just for the use of a name.
Generally, misconceptions are created from lack of education or knowledge on a subject. The misconception that franchises are large, money-hungry corporations, with no local impact, is based on a stigma created off of assumption. Remember, that although there is a franchisor involved that isn't necessarily local, the franchisee, their families, all of their employees, and outside companies they do business with are. A franchise business will provide many local jobs, and create local connections that serve to also benefit other local companies.
If you are interested in opening a franchise in your community, that can impact the local economy largely, and one that understands the importance of local involvement, join The Brothers Gutters team! Contact Ken for more information on local franchise opportunities near you!