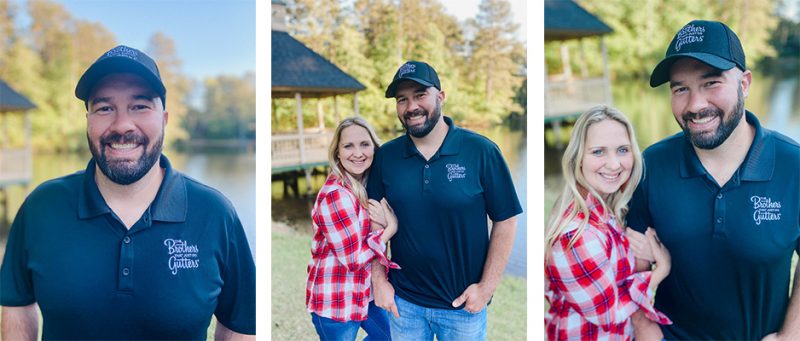 The Brothers that just do Gutters is now open in NE Atlanta, Georgia and is owned and operated by Josh and Kathleen Bowie! Josh and Kathleen Bowie are your ATL gutter installer and long-time residents and locals to Atlanta, GA. Josh was born in Maine, but moved to GA when he was 10 and grew up in Gwinett County. Kathleen was a missionary kid that grew up overseas and was born in Guam, but Josh and Kathleen have been residing in GA for 16 years, and they absolutely love their home and community.
Josh has a lifetime of experience in the residential home industry and also many years of experience serving his community. In 2008, Josh took a job as a police officer and served for 9 years, but realized his heart was always, and would always be in construction. He is "glad to bring The Brothers that just do Gutters to the North Atlanta area."
Kathleen and Josh have 4 boys and one of the things they hope Brothers Gutters can be for their family, is something they can pass down to their children. They also feel extremely excited about the opportunity and influence they are bringing to the community. The Brothers that just do Gutters will create a number of local jobs with great growth potential for locals!
"I am really excited about the Skills Ladder program that they offer," said Kathleen, "by using this training program, we can provide the people that work for us a clear-cut pathway on how to rise in the ranks in both pay and position." Additionally, as part of our Skills Ladder training, installers are required to read certain books centered around leadership, customer service, and personal development. "We get to have our installers do book reports on books that not only help them to grow within their position, but also to develop as a person and implement in their own personal lives in so many ways," she said.
The Bowie's heard of The Brothers that just do Gutters opportunity through friends who have been in the franchise for years. "As we started to do more research, we were blown away," said Kathleen, "The character and the reputation of the franchise as well as their commitment to their clientele was very impressive."
During this research phase, the Bowie's also were given the opportunity to speak with any and all of the current franchisees within our system. "Every single one of them had just glowing reviews," said Kathleen, "of the company in general as well as their kindness towards others and their excellence in work they do and provide." Josh added that "It is really amazing to be part of this family that they've given us the opportunity to be a part of."
Josh is particularly excited about being a part of the gutter industry because he likes the idea of being able to help local homeowners protect their investment (home) and to bring a 5-star service to these community members in what's typically not a 5-star industry. "Gutters provide something that people need, that they may not even realize they need," he said, "We are proud to be offering a service that helps people to protect something so important."
Josh and Kathleen feel really confident in the level of support they have received from the franchise system including the entire headquarters staff and Ken and Ryan themselves. "I genuinely feel that Ken and Ryan are as excited about us having this, as we are," said Kathleen, "There has not been a time that we haven't been able to get a question answered with just a quick phone call to someone on staff or Ken and Ryan directly." Kathleen also elaborated on the individual teams within the franchise headquarters like the Contact Center and Franchise Marketing team saying, "When we went to NY and watched how the whole team functions; they are real professionals and we have that help at our fingertips any time we need it. The support is just unmatched."
Additionally, they are very impressed with the system itself and how it is laid out. They are particularly excited about the resources they have at hand as they begin their journey as business owners. Josh added that "There is really nothing they haven't figured out yet or mastered, and we have the opportunity to see and use all of this."
Some of the things that Josh and Kathleen are really looking forward to in the coming months/years is having multiple crews, expanding their territory, and seeing their trucks all around the community and neighborhoods of North Atlanta.
This husband-wife team is ready to bring 5-star service and great opportunity to their local Northeast Atlanta Georgia neighborhoods of Auburn, Dacula, Suwanee, Lawrenceville, Duluth, Gainsville, Braselton, Sugar Hill, Buford, Flowery  Branch, Oakwood, Pendergrass, and Talmo, GA.
Interested in learning more about Brothers Gutters Franchising opportunities? Visit us HERE.