About The Brothers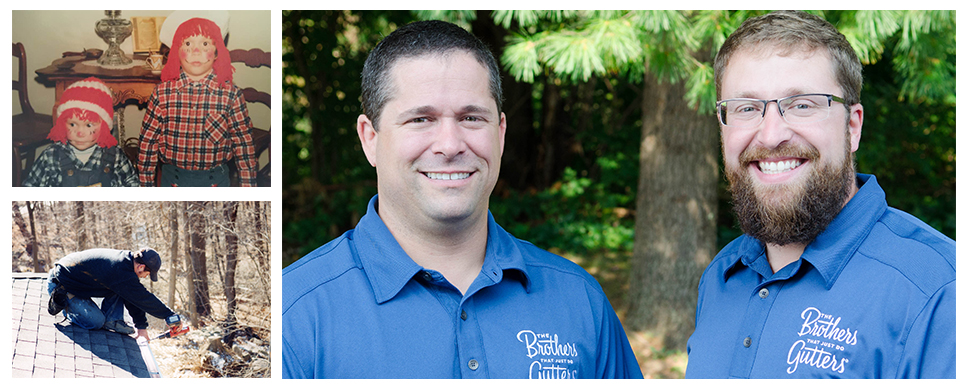 Ken Parsons graduated college in 1996 with a degree in History and began his teaching career shortly after. However, after spending a few years as a substitute, he realized becoming a history teacher was just not for him. An opportunity to earn some extra cash during the summer working for a local gutter company arose, and it opened Ken's eyes to the idea of entrepreneurship. In 1999, at the completion of the summer, Ken made a very important, but difficult, decision to start his own business, instead of returning to teaching. Ken began by purchasing nothing but a very used box truck, and an old gutter machine, and with much determination and hard work, he was able to get a decent gutter business up and running.  However, he quickly realized his growth was extremely limited on his own.
It was then that Ken decided to try to recruit his younger brother, Ryan Parsons. Ryan was just graduating college when Ken began his journey as a business owner. Ryan's passions were in the graphic design field, and because of this, he met Ken's recruiting efforts with much opposition. After graduation, Ryan spent a couple of years working as a graphic designer for a startup business. However, in 2002, when the company went under, Ryan finally decided to accept a job on the truck with Ken. Ryan's plan was to work for his brother while looking for another job in the design field. However, during his time with Ken, to his surprise, he caught "the contagious vision" that Ken had for the business. Over the next several years, by applying his unique skills, Ryan helped the company to grow, and became completely committed to the business as a 50% owner.
In 2009 the Brothers officially changed their name to The Brothers that just do Gutters and in 2014 they became a franchise, but only after perfecting their business model. By 2015, The Brothers that just do Gutters opened two additional franchise locations, with new business owners that looked, and acted like they'd been around for generations.