If you've imagined owning your own business, one of the first things you probably considered is what you ultimately want to get out of being a business owner. Of course, everyone wants to make more money, but what about controlled growth, and stability? Have you analyzed the challenges associated with business ownership, and most importantly do you have a team or business partner to help you get through them? If you are thinking that you will find quick success with a great amount of profit by going at it alone, you are unfortunately wrong. Attempting to start and run a business with no help and no team can not only be detrimental, but lead you to close shop before you've even truly opened for business.
So, what do we mean by team?
Staff to do daily tasks, and produce work – Unfortunately, you cannot complete every task of a business alone if you want to make any sort of profit. You may think that going at it alone means that you will make a higher profit because you get to keep the entire pot, but when production time is so limited, the pot becomes very small. The less actual billable work you can complete, the less profit you will make.
Finding a business partner – Two founders of a business rather than one significantly increases the odds of success and creates a higher profit margin, because you will have double the resources. It is a known fact that startups do better when they have two equally invested partners, but, it's also a fact that equal ownership means equal profit.
Since partnering increases your chance of success and the overall profit you can make, the good news is the pot will likely be bigger. This means that partnering with another owner can not only lead you to a comfortable life, but also one that is very profitable. But, the bad news is that it also means that you will always be limited to 50%.
Could you imagine if there was a way to partner with an already established and successful business owner, use their resources, reputation, and pool of business contacts but keep nearly 100% of the profit? We know what you're thinking, impossible right? Well, not really. This is franchising. Franchising allows for you to partner with an already established and successful business owner (the Franchisor), and use not only their resources, but their entire business model and systems, while allowing you to keep almost all the profit. Your business partner (the Franchisor) is only entitled to a small percentage.
Since you are going to want to find a business partner to invest in your idea with you anyway, why not choose one that isn't going to keep 50% of the profit? Additionally, businesses within the franchise system are proven to have a quicker ramp up to success because of these available resources, connections, support, systems and teams.
When starting a trades company, here are just a few things you will need to account for:
Someone to answer the phone
Schedule and organize the estimates
Go to estimates
Follow up
Complete jobs
Order material
Tools/equipment/vehicles
A website and marketing practices
Recruiting experienced help and/or training unexperienced help
Safety training
When your join a trades franchise, like The Brothers that just do Gutters, there are already systems, teams, and extensive training processes in place to help complete all these things. Like we discussed above, if you are a one-man-show, it is very likely that there will be one or several areas of your business that are lacking, because you just simply can't do it all effectively by yourself.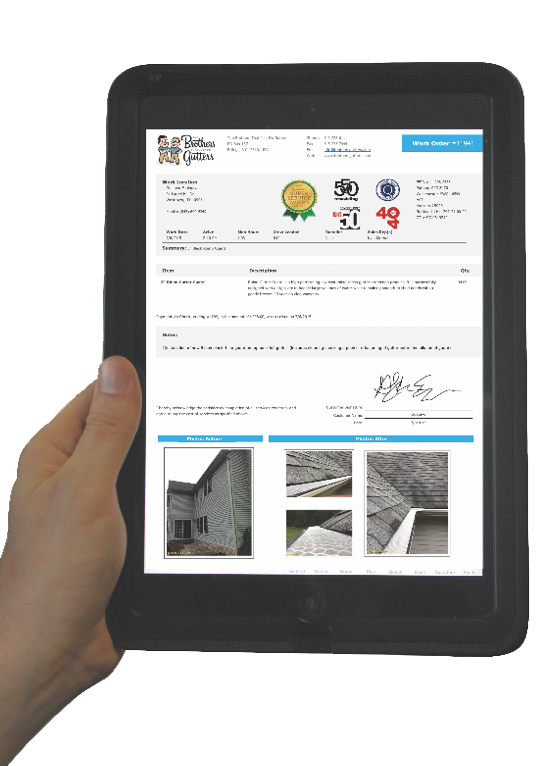 For most contractors, the biggest complaint they receive from costumers is that they are awful at answering calls, and/or keeping track of their schedule. At The Brothers that just do Gutters, we understand how hard it is for an owner to answer calls all day long, go to estimates, schedule estimates and jobs, handle confirmations, etc. on top of running the business and producing work. Because of this, we have a franchise Contact Center who answers all calls, as well as handles all scheduling requests, and changes for all franchise divisions. This is a huge task removed from that of the owner, and because of this, it makes the entire process, and customer experience smoother and more organized.
In addition to this huge task being lifted from the shoulders of the owner, The Brothers that just do Gutters have an on-staff Marketing Team that produces marketing campaigns, website and content creation, branded materials, and much more. Additionally, your location will reap the benefits of the already established web rank and reputable brand.
By joining a franchise system, you are allowed the use of an overwhelming amount of resources, business systems, and extensive training processes. As a franchisee, you also have support from both the Franchisor, and the other franchisees. Not all franchise systems provide ongoing support for the life of your business, but at The Brothers that just do Gutters, we pride ourselves on the extensive support we provide to each franchisee. When we say support, we mean from initial contact throughout the entire life of their business. We do not disappear after the sale.
Purchasing a franchise allows for you to invest in your own business with the help and benefits of a partner, while also keeping almost all the profit. Purchasing a Brothers Gutters Franchise allows for you to have these benefits while also standing out in your industry. We've been told that our support and marketing is well beyond the competitors in our industry. If you are ready to partner up with The Brothers that just do Gutters and begin building the ladder to your business ownership dreams, contact Ken today and find out how you begin!