After reading the title of this blog, you may be trying to imagine how both franchising and a home-based business could be keys to creating your path to success. What if someone told you that both the franchise system and a home-based business can create the fastest startup with the quickest ramp-up to success? You'd probably ask why, right? Well, with a home based business, you get:
Less overhead
A Quicker Launch
Flexible Hours
No Office Travel Time
Growth at your own pace
More Freedom
Although all of these great concepts work well for launching a home-based business, and many entrepreneurs start out this way, it takes a long time to create success from a home-based business if all the costs to build the business are spent in buying your tools and crafting your business plan and processes. But, what if someone came along and provided a proven system for your home-based business?
If the system had already been discovered, imagined, identified, created, tested, analyzed, and proven, this means you would likely bypass the most challenging phase of business ownership. A system reaches this phase only through time, labor, and failures. When purchasing a franchise system, you are receiving a system at this phase where proven processes and workflows have already been created. With a Brothers that just do Gutters franchise, you are getting even more than this proven system. You are also becoming a part of a brand that is continually expanding, testing, and building.
So, what if you could start your own home-based business while also eliminating the need to reinvent the wheel, and the risk of starting from scratch? What if you could combine the systematic approach to franchising, with the convenience and flexibility of a home-based business?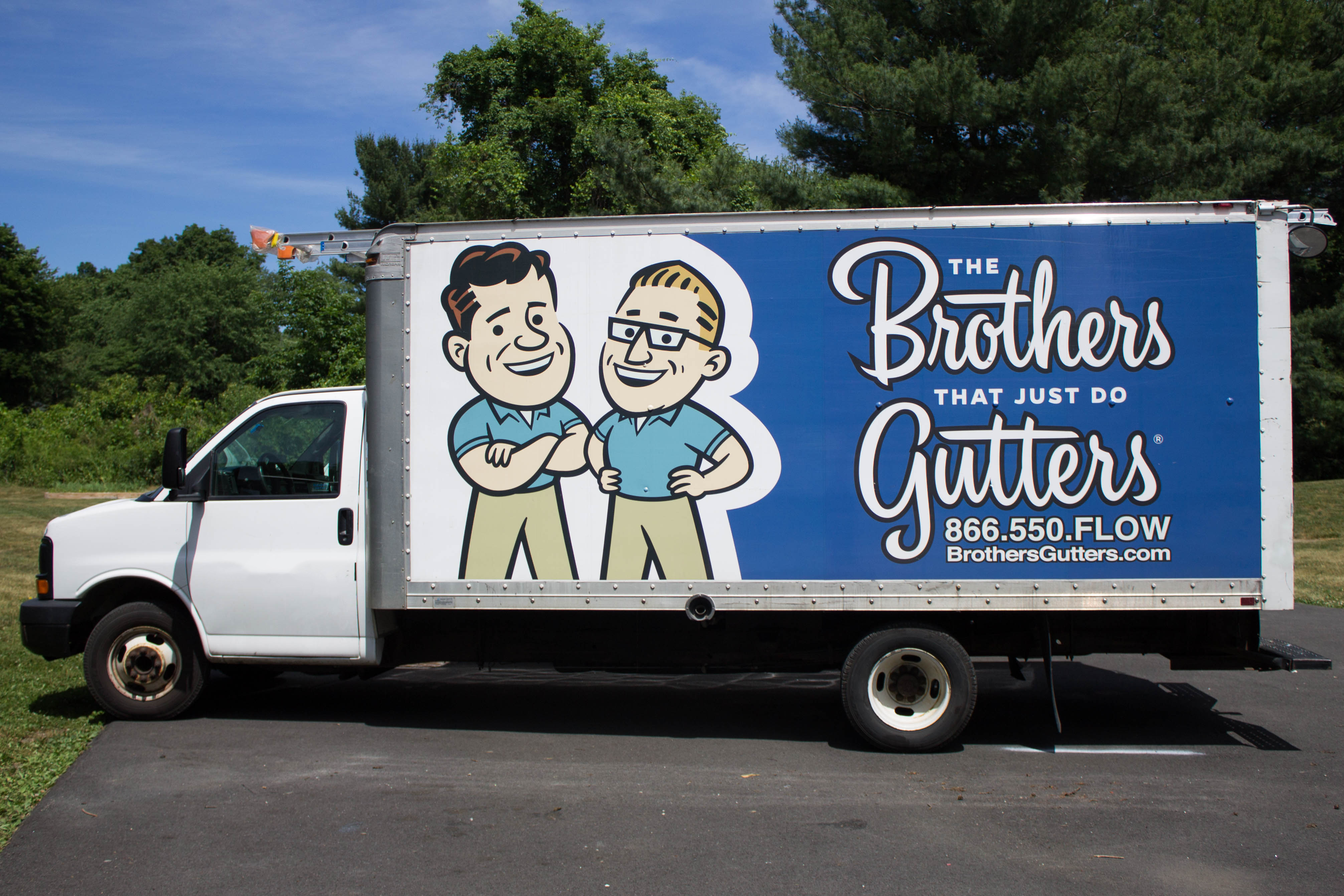 Often, when purchasing a franchise location, you'll need a storefront, or an office with a full operating staff, and you'll often need to operate your business and/or products sold out of this location. However, with a service based franchise, like The Brothers that just do Gutters, you do not need a "brick-and-mortar" location. To get started, all you'll need is a truck and a gutter machine. Because of this, a lot of our franchisees simply use their home as a place to operate all of their back office duties. This makes owning and operating a Brothers Gutters location easier, and cheaper than many other franchise options.
Why a home based franchise?
No office space rent costs/overhead. Purchasing a "brick-and-mortar" location can be pricey but many businesses do require a work space outside of your home, plus it is an additional tax burden you need to carry. Many franchise purchases may also require a storefront to sell your products or services out of. A food based franchise will require a physical location to run your restaurant out of. For a The Brothers that just do Gutters location, to begin operating your business, you'll need a truck and a gutter machine, meaning our business is essentially, completely mobile. You can also claim your home as a tax deduction for office space.
Quicker Startup. When purchasing a franchise requiring a storefront or starting a business serving customers from a location, locating a building can prove time consuming. In addition, once you do find a building, there is still a time consuming approval process left to go through prior to opening your business.
Flexible hours. Working from home means that you can work around the hours that are best for both you and your family. Clerical operations can be performed at the hours you choose.
No office travel time. Working from home means there is no commute to work. Essentially you could wake up and work, leaving more time to work and accomplish tasks with the flexibility of your chosen hours.
Growth at your own pace. The added cost and stress of purchasing, and paying for a storefront or office location can put extra stress on the need for quick growth, and often may mean less opportunity to run your business as you want. The pressure of needing to grow and make money quickly may mean you'll sacrifice quality to produce more quantity. Eliminating overhead allows you the lenience to grow as you wish.
More freedom. More freedom is essentially the summing up of all the above. All of these conveniences and steps to a successful business, at a quicker rate, allow for more freedom, not only in your professional life but also your personal life.
Overall, if you are ready to start your own business, and desire the flexibility that comes with business ownership a service/trades industry may be the best move for you. Additionally, purchasing a franchise grants you the ability to own and operate your own business, but eliminates the need to reinvent the wheel and start from the ground up. Working from home is extremely desirable for many, and many of our franchisees who do operate from their home, find it to be conducive to their schedules and family lives. It has also allowed them the opportunity to get their business up and running and to begin producing work quickly without having to pay additional overhead costs.
Does owning a The Brothers that just do Gutters home based business sound like the right move for you? Visit us HERE for more information!