Subway, Pizza Hut, Domino's, McDonalds, Burger King, Dunkin' Donuts, Starbucks, Taco Bell; these are most likely some of the first names that come to mind when you think of franchises. Although food franchising may be "the norm" for the franchising industry, there are other franchise opportunities within other industries like the trades, fitness, health services, etc.
These other industry markets are way less saturated than the food franchising industry, particularly the trades industry. Why would I want to buy a trades franchise you may ask? Well, we have 4 big reasons.
Find out more about a successful niche trades franchise here!
Under saturated.
Demand.
Large service areas.
Higher profit potential.
Buying into an unsaturated market is often a good idea. Unsaturated, doesn't necessary mean not profitable. When it comes to the trades industry, as far as franchises go, the market is still very open and very under saturated. Most trades franchises that currently exist are general contracting companies, or handy man services. A niche market trades franchise is even less saturated. With little saturation comes more opportunity.
As well as being under saturated, home renovation, remodeling, and repair will always be in demand and needed. Of course eating will always too be a necessity, but, with food, there are so many options that the consumer's purchasing choice depends on where they are and what they're in the mood for at that moment. When homeowners are investing in something as important as their home and repairing or updating it, their choice will be way more heavily focused on reputation. These shopping decisions are long tail, researched, important ones. In a market with less choices, if you're a reputable company, clients in need of your services are likely to contact you.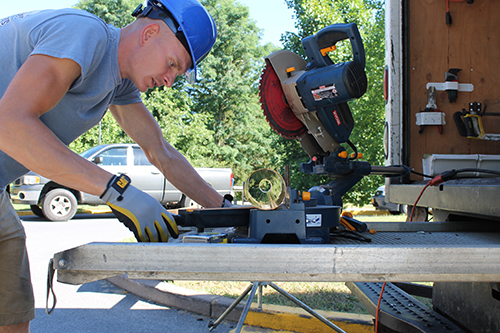 Service areas are also much larger for construction based industries, as they do not operate out of a storefront, but instead travel to location to work. This allows for your client demographic and pool to be much larger, and also allows for expansion into nearby counties. By having a larger service area, there is less competition among franchise owners. With the food industry, it is not only ok, but extremely common, for a second, third, or fourth franchise location to open right down the street from your location.
When your product is a home service rather than a tangible product, the cost of the service is much higher than it would be to purchase storefront items and/or food items. With home projects, there is great potential for high profit on each project sold, as each job can range from a few hundreds of dollars to 20,000+. This allows for great potential to grow to an extremely profitable company.
A trades franchise in a niche market can be a very profitable, and unique choice when considering a franchise. The Brothers that just do Gutters have been able to find much success in creating a one-of-a-kind franchise model within the trades industry that focuses in a very specific niche market. Interested in becoming a trades franchise owner? See The Brothers that just do Gutters FRANCHISE OPPORTUNITES.